Product Innovation
New products bring additional revenues, profits, and employment opportunities to companies. New products also help to diversify a company's offerings and prepare them for the future. However, products that are not in touch with consumers' needs fail at drawing their interest – no matter how technologically advanced the product may be.
At Hankook Research, we use the Concept-Builder research framework to assist our clients with product innovation. We first identify consumer needs and then create strategies for product development all the way through to product launch. Using this model, our clients are able to evaluate and improve the competitiveness of their own products. Our assistance ensures that a new product launch is executed successfully.
Within the Concept-Builder framework, we first make use of NBPC to extract ideas for new product development. We then make use of Net-Cast to identify new product concepts that have the best chance of succeeding. And finally, Concept-Guard serves to evaluate new product concepts, identify areas in need of improvement, establish a pricing structure, position the product properly, and create communications strategies.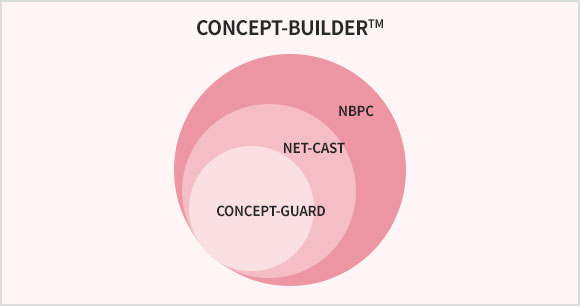 NBPC
NBPC is the 1st step in developing new products. We have consumers participate directly in the process of developing new product concepts. This ensures that new products are derived from real consumer needs. At Hankook Research, we have over 30 new product development experts that can guide our clients throughout this process.
NET-CAST
NET-CAST is a modeling framework that singles out product candidates with the most potential. It does so by evaluating purchase intent of a product concept and comparing a product concept to other products already available in the marketplace.
CONCEPT-GUARD
The CONCEPT-GUARD module analyzes consumer purchase intent of a new product concept, purchase intent of a new product, and the price consumers are willing to pay to assess the probability a new product will succeed in the marketplace. It looks specifically at the main consumer values and benefits of a new product to improve upon product concepts and communication strategies.